Back to All News Articles
How freelancers help agencies
Posted 12 months ago by Rebecca Thomas
Agencies are known for being pots of creativity, with some of the worlds best marketing and creative work coming from them. Yet, irrespective of their capacity to deliver ground breaking work, they all face a common challenge.
Access to talent.
Over recent years agencies have invested heavily into digital marketing and advertising techniques to ensure they stay ahead of the game. And whilst they have mostly been successful, the development of talent and skills in this area has often lagged behind, with access to (example skills) most difficult.
This is where agencies often take on freelance and self-employed talent, to help fill these skill gaps and remove pressure from overburdened teams.
But freelancers are capable of doing more than filling a gap.
Bring in fresh perspectives
Freelancers can be treated with some hostility when entering a business, especially one which does not use temporary talent regularly. But, whilst hostility is normally grounded in employee concerns about disruption often the impact created is positive.
Due to their exposure to different clients and settings, freelancers may be able to provide new creative ideas which help to reinvigorate teams who may be starting to get stuck in one frame of thought. This can help to open up fresh perspectives on business challenges, which may aid business development in the longer-term.
Though increasing creativity is key, often it is not just creative mindsets which are contracted into agencies.
We have previously worked alongside project managers who have been placed in an agency setting, who outside of pushing a large project across the finish line, have helped agencies to restructure the way they approach timelines, projects and budgets to create a more efficient business. Other examples include web developers who have helped push agency clients to consider the wider picture of user experience, creative artworkers who have challenged approaches for the better and marketeers who have helped steer business goals to be more aligned with communications.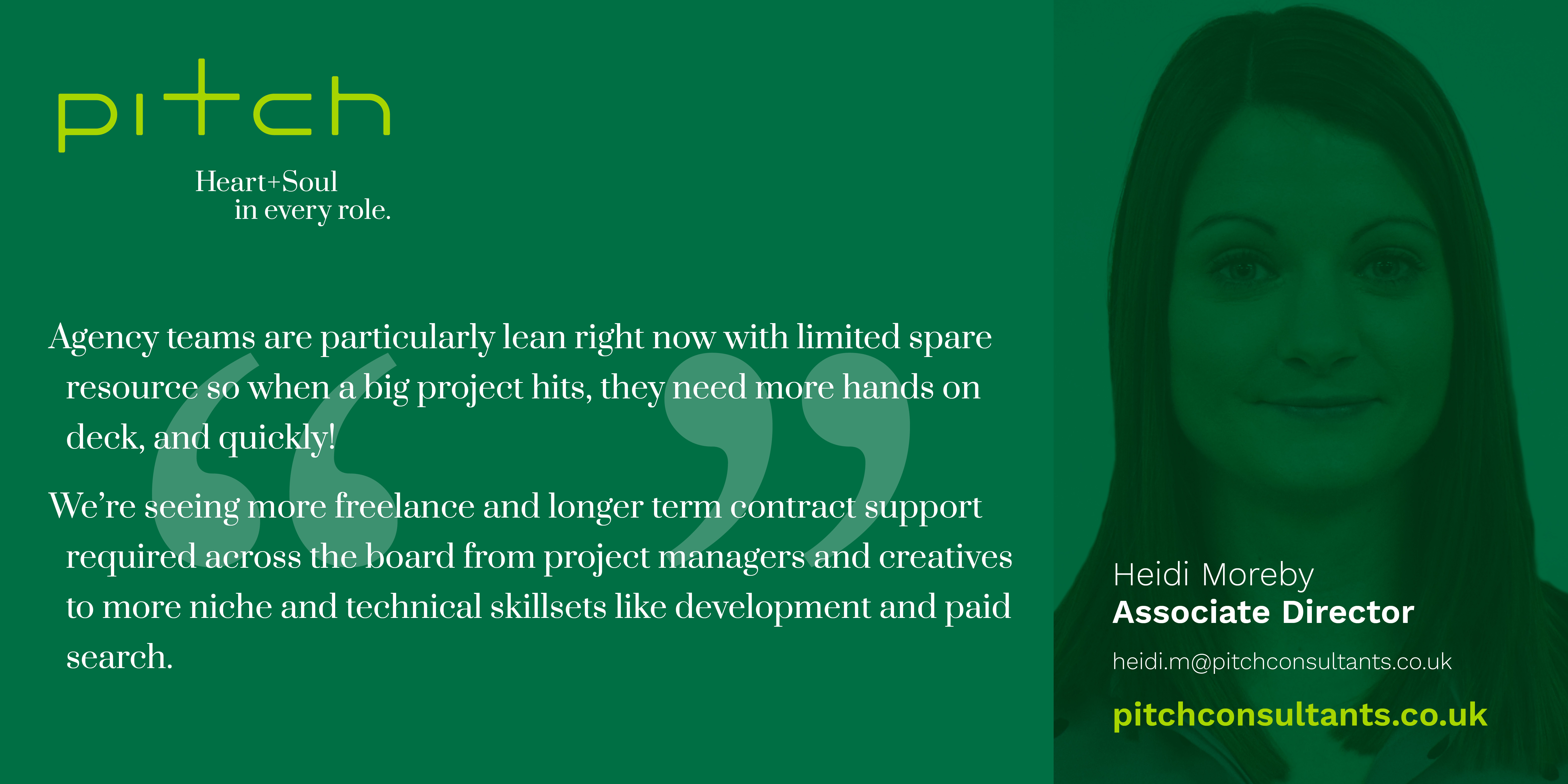 Offer low risk for agencies looking to grow
If any business would want a low risk approach to growth, now is probably the time.
2020 put a lot of recruitment plans on hold and with things starting to recover, some businesses are seeing a growth in demand, which after cutbacks is putting pressure on internal teams.
The problem? Until projects are completed, financial limitations mean that many agencies may struggle to be able to increase their team sizes on a permanent basis invest in new talent to alleviate internal pressure.
A key solution here is to take on freelance and temporary talent and our recent blog outlined how taking on a freelance or temporary team member may benefit businesses.
At its core taking on a freelancer or temporary worker is an ideal solution for those businesses looking to increase their ability to complete a higher volume of projects without taking the risk of a long-term investment in a permanent worker.
Unique way to recruit permanently
If you decide to take on a freelancer to cover additional workloads, this can be a unique way to recruit in a market where otherwise in demand skills are hard to come by.
With a third of the UK's creative workforce self-employed, taking in freelance talent can be a key way to access a new pool of the workforce, many of who are specialists in those hard to find skills.
Though not all freelancers will want to move to a permanent role, some may welcome an increased level of financial security (especially after 2020) . Giving them the option to become acquainted with the agency before approaching them with a prospective permanent contract can be a key way increase interest in making the change and may prove profitable for the agency in the long-term.
Access to new networks
If agencies become well acquainted with freelancers, they may be open to sharing connections in their own networks.
For agencies this can be profitable as it may lead to new skillsets being recruited and new business opportunities being identified.
The agency and freelancer partnership is one which we are all well acquainted with, but freelancers are more than filling a skill gap. They are potential avenues for the development of agencies which can have numerous perspectival, structural and financial outcomes.
If you are interested in taking on a freelancer or temporary worker as an agency, please reach out to our freelance/interim team who will be able to help.
​
Image Credit
Header: Image adapted from Photo by Tuesday Temptation from Pexels