Back to All News Articles
How to handle a CV gap
Posted about 1 year ago by Julia Williams
Following the surge of redundancies last year, combined with a decline in the volume of vacancies available, we are getting many questions from job seekers about how they can address a gap in their CV to ensure they appeal positively to employers in 2021.
A gap in your CV may be defined as a period of unemployment lasting longer than 3+ months, and many job seekers see it as an area of concern when applying to new roles, worried about what negative connotations this may have when potential employers notice it.
"CV gaps are a red flag to employers and recruiters"
Yes frequent and lengthy gaps in a CV can be a potential red flag about your commitment and ability to perform, however the majority of cases we come across tend to have a sound explanation for a gap in employment.
If you are able to explain why this gap occurred; examples we have come across are redundancy, sickness leave, maternity leave, caring responsibility or taking time away from work for studies, then it is not considered to be a major red flag for employers and recruiters.
​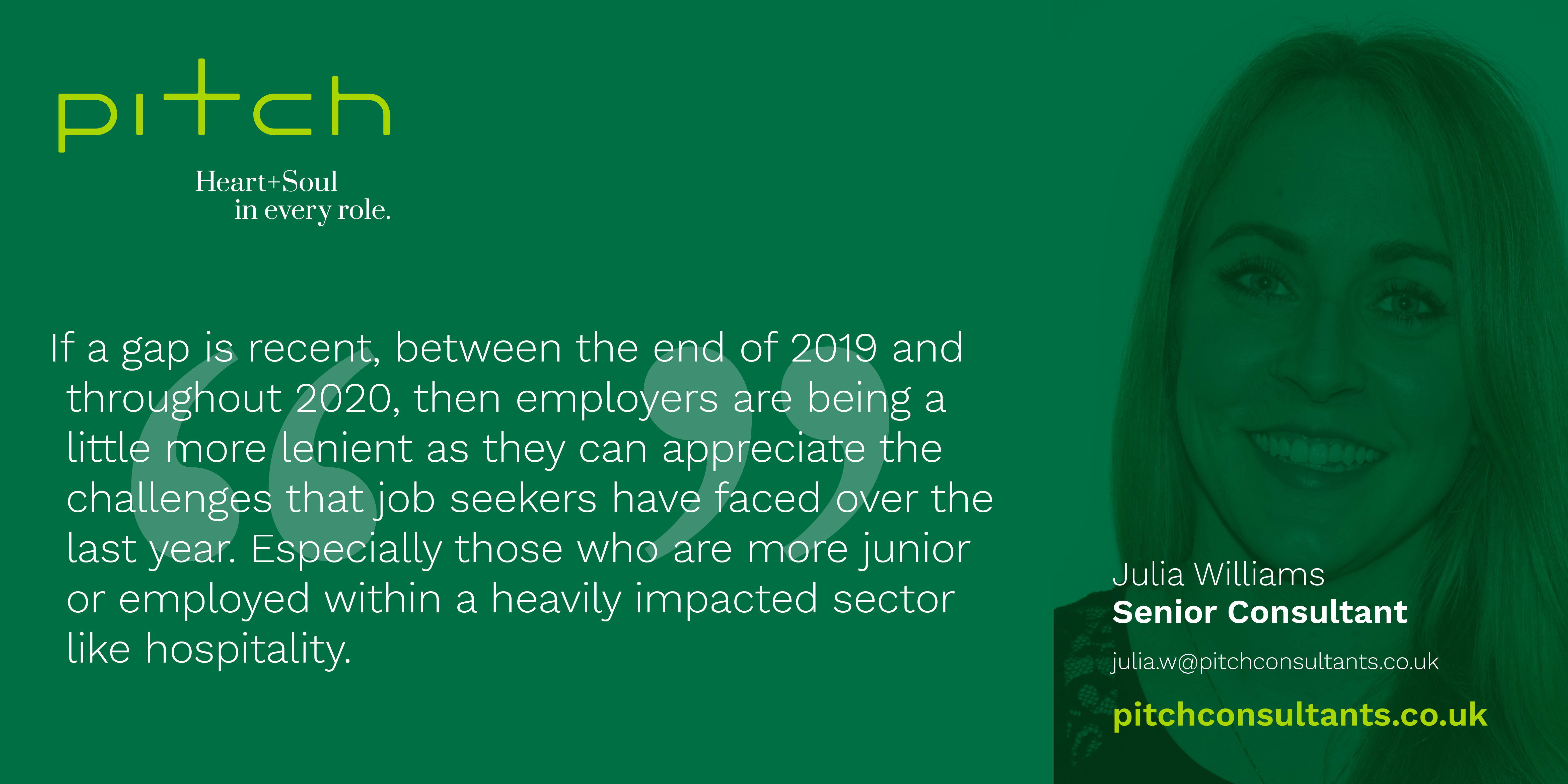 ​
How can I address an employment gap as an experienced employee?
The most important thing to do is be transparent and rather than leaving employers questioning a potential gap, it is best to address the issue head on.
Next to the dates on your CV it may be wise to address the circumstances which led to you leaving the role, this may be anything from redundancy to entering further education, and you can further address this in your cover letter.
If you left a role under circumstances which may be deemed to be negative, such as failed probation or internal issues, we suggest talking these through with employers in an interview situation. Honestly is the best policy but you need to be prepared to answer openly.
In either circumstance it is also wise to share what you did during that period of time in your cover letter, addressing topics such as how you kept up to date with trends in the market or developed yourself professionally.
As an experienced candidate, there is no need to go into a massive amount of detail when addressing these issues in your CV or cover letter. A simple paragraph will do, so long as it addresses a potential employers curiosity, where further explanation can be given in a face to face meeting if needed.
I'm a recent graduate and haven't been employed in my field of study. How can I address this?
Contrary to popular belief, not having a graduate job within 6 months of finishing your studies is relatively common, particularly in the current market.
Following a reduction in the volume of graduate opportunities and junior level roles, many employers are likely to be sympathetic towards recent graduates at the moment, so you shouldn't panic too much about how a gap in your CV may be perceived.
What is important is that you can identify how you have utilised your time during this period. You may have undertaken additional training, picked up a temporary job or helped a business on a voluntary basis. Use these experiences to build out your CV and don't be afraid to pull them into a cover letter highlighting how the skills you used and developed may be transferrable to the role you're applying for.
Our tailored recruitment insight blogs address further topics, ranging from market trends to CV tips, to help you improve your applications to compete in todays competitive job market.
​
Image credit:
Header: Image adapted from Photo by Daria Shevtsova from Pexels