Back to All News Articles
How we are prepping for a post covid-19 future: What may recruitment look like
Posted over 1 year ago by Rob Markwell
Like many businesses we are currently navigating the logistics of returning to a physical office in the near future. Whilst trying to wrap our heads around how we will reach the 6th floor without sharing a lift is a struggle, we cannot deny that we miss being in the same room as our colleagues whilst sharing a laugh and the stresses of daily life amongst each other.
In two months we have come so far as a business, from having to adapt to a remote working pattern to putting in place various adaptations to ensure our clients who are hiring during the lockdown are safe. Whilst sometimes we crave a sense of normality, truthfully we have come too far to return to our normal patterns and recruitment is unlikely to be the same in the future.
Digital Recruitment
As more businesses engage in digital transformations and social media, we can argue the recruitment process has been slow to adapt to the digital age.
Up until March, businesses still relied on face to face interviews to determine the effectiveness of candidates, and many would feel uncomfortable conducting video and remote interviews (even for first stage meet and greets) because it was not what they were used to.
Going into April we have all had to challenge the status quo, and whilst 86% of B2B marketers and 88% of B2C marketers have temporarily paused recruitment, those who have continued to hire during these unprecedented times, either through Pitch+ or other video interviewing software, have generally found the process more engaging and efficient.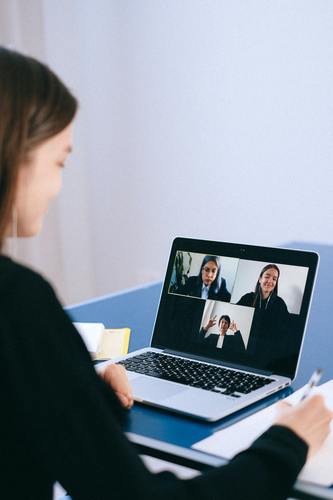 Video interviewing not only increases the time to hire, but also can reducing hiring costs by as much as 80%, especially for those larger organisations who fork out on travel and assessment centres. Whilst it can be difficult to virtually determine organisational fit in a virtual space, conducting online interviews reduces the pressure and time involved during the first-stage, meaning that leaders can focus on getting a feel for personality during a face to face second interview.
We don't expect recruitment to become a fully digital space in the next year, but recent events may increase the favourability of organisations to use digital techniques during first-stage interviews.
The image issue
Everyone knows it, the recruitment industry has a poor reputation. If you listen to the general complaints we are often sales, target and money driven without recognition for the emotional issues around employment, everything has a sale behind it.
Only it doesn't.
During this lockdown, we have seen multiple recruitment businesses sacrificing their bottom line and time to help their communities. Personally, we have removed barriers to paid services like Pitch+, offered our services for free to struggling companies and SME's, raised money for Refuge and offered free CV workshops whilst trying to keep our clients and candidates informed on the most up to date information.
For us this is part of our DNA as a brand, we have always done it, it is what makes us standout in an industry with an arguably tarnished reputation. But for some this is a new leap, one which if incorporated for the long-term may help to change perceptions of the recruitment industry for the better.
Though we wish we could say the recruitment industry is going to be okay, we know there are many challenges including a looming recession ahead of us. But whilst we navigate those challenges in the moment, we know that we can look back and be proud of what we and others in the industry have achieved over the past two months.
​
Image Credit:
Header: Photo by Tim Mossholder from Pexels
Image 1: Photo by Anna Shvets from Pexels